US initiative to explain turbans
AMERICANS are being asked by their Justice Department to get acquainted with the turbans and other head coverings like patkas and hijabs. Post 9/11, there have been a number of attacks against people of colour, especially those who wear distinctive ethnic clothing. The Sikhs have also faced attacks, especially those who wear turbans.
An "Initiative to Combat Post-9/11 Discriminatory Backlash," by the Civil Rights Division of the U.S. Department of Justice seeks to actively work to "combat violations of civil rights laws against Arab, Muslim, Sikh, and South-Asian Americans, and those perceived to be members of these groups." The department has also brought out a similar poster on common Muslim American head coverings, which shows Muslim women wearing scarves and hijabs.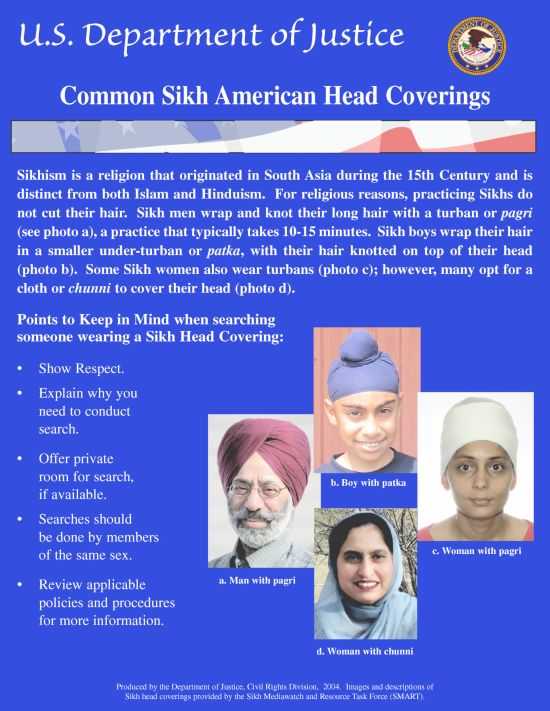 The Justice Department admits that since 9/11, "members of these groups, and those perceived to be members of these groups have been the victims of increased number of bias-related assaults, threats, vandalism and arson. Reducing the incidence of such attacks, and ensuring that the perpetrators are brought to justice, is a Civil Rights Division priority.
The Division has also placed a priority on cases involving discrimination against Arab, Sikh, Muslim, and South-Asian Americans in employment, housing, education, access to public accommodations and facilities, and other areas within the Civil Rights Division's jurisdiction."
The poster on the Sikhs describes Sikhism as "a religion that originated in South Asia during the 15th Century and is distinct from both Islam and Hinduism. For religious reasons, practicing Sikhs do not cut their hair. Sikh men wrap their long hair with a turban or pagri, a practice that typically takes 10-15 minutes. Sikh boys tie their hair in a smaller under-turban or patka, with their hair knotted on top of their head.
Some Sikh women also wear a turban; however, many opt for a cloth or chunni to cover their head.
Primarily meant for law enforcement agents, the posters have "points to keep in mind when searching someone wearing a Sikh head covering, which are: (i) show respect, (ii) explain why they need to conduct the search, (iii) offer private room for search, if available. It also says that searches should be done by members of the same sex. — TNS